Summer is nearly finished so now I've decided it IS time to hibernate and repair! Repair the mind, re-balance the body and work on getting my skincare regime back up to par. With the weather so unpredictable these days in terms of being hot one day and chilly the next, it's hard to know what to do in terms of seasonal skincare. When the seasons change, so does my skincare routine. However, I'm also still busy trying to repair the damage of too much sun this summer (I'm not complaining!). So in regards to skin, there's a lot going on at the moment. But what I've really noticed is that my skin has gotten so dry lately so I will be talking specifically about products for dry skin when the weather gets a bit colder!
When summer ends, my hair feels drier from too many days in the sunshine and my skin feels just a little bit parched, mostly since on the days it's a bit chilly, I'm huddled in front of the heater. Seeing that I got a lot of sun exposure this year and that I'm dealing with the seasonal changes, I've switched up my skincare routine a little bit.
One thing remains the same however in my skincare regime, and that is a good facial mist. I've gone on and on about these and how much I absolutely love them. No matter the season, they are so good for topping up your hydration throughout the day, whether you are being blasted with air-con or central heating.
I've been using the SBC Aloe Vera Spritz which is both hydrating and refreshing. I'm quite picky about the actual mechanism of the spray coming out of the bottle and I have to say that the SBC Aloe Vera Spritz has nailed it – when you press down on the nozzle, a lovely fine mist comes out (as opposed to spraying you in the face like a water hose like some I've tried before). This makes it the perfect facial mist for using throughout your day as needed and over make-up to refresh and hydrate.
The Aloe Vera mist smells lovely as well, with a light fragrance of cucumber extract that feels both uplifting and energising at the same time (I swear by a light spritz at 3pm when you hit your afternoon slump). You can also use this on the body as well and it does work a treat for skin that has been exposed to the sun, so you can use it in a variety of different ways. The mist contains aloe vera and cucumber extract to cool, refresh and hydrate. This is a FABULOUS all-around mist that just feels great on the skin, no matter what time of the day or how you use it.
Another product I switch up when the weather gets a bit cooler is my cleanser. In the heat of the summer I use a foaming cleanser to remove sweat, grime and make-up. However, when the weather starts to cool down I love using a cream cleanser as I find it's a lot gentler but still removes make-up effectively. The SBC Collagen 3-In-1 Cleanser is another gem – it removes all of the above (make-up, grime, oil) and also mildly exfoliates (winner!).
You can also use the SBC Skin Shammy with this product – simply rinse the cloth in warm water, wring out and then wipe away the cleanser. When your skin starts to go dry and tight that's when you know you need to switch to a cream cleanser!
Another area I pay close attention to is my eyes. The eye area is one of the first to show signs of ageing and I think an eye cream is absolutely essential. The eye area has different problems compared to the rest of the face so a separate cream for that area is a must. Think about it – you get dark circles, puffiness and dehydration lines under your eyes and none of those problems occur elsewhere on the face, right?
I've really gotten back into the habit of taking care of my eye area and the SBC Collagen Illuminating Eye Cream has been amazing to use. The reason I like it (and that makes it a bit different from other eye creams) is that it instantly brightens the whole eye area, thanks to mica which adds a subtle glow. The eye cream works to smooth dehydration lines (which I tend to get when blasted with both air con and also heating) and with that added brightening effect, it will also help mask any dark circles. Because let's face it, we're all exhausted!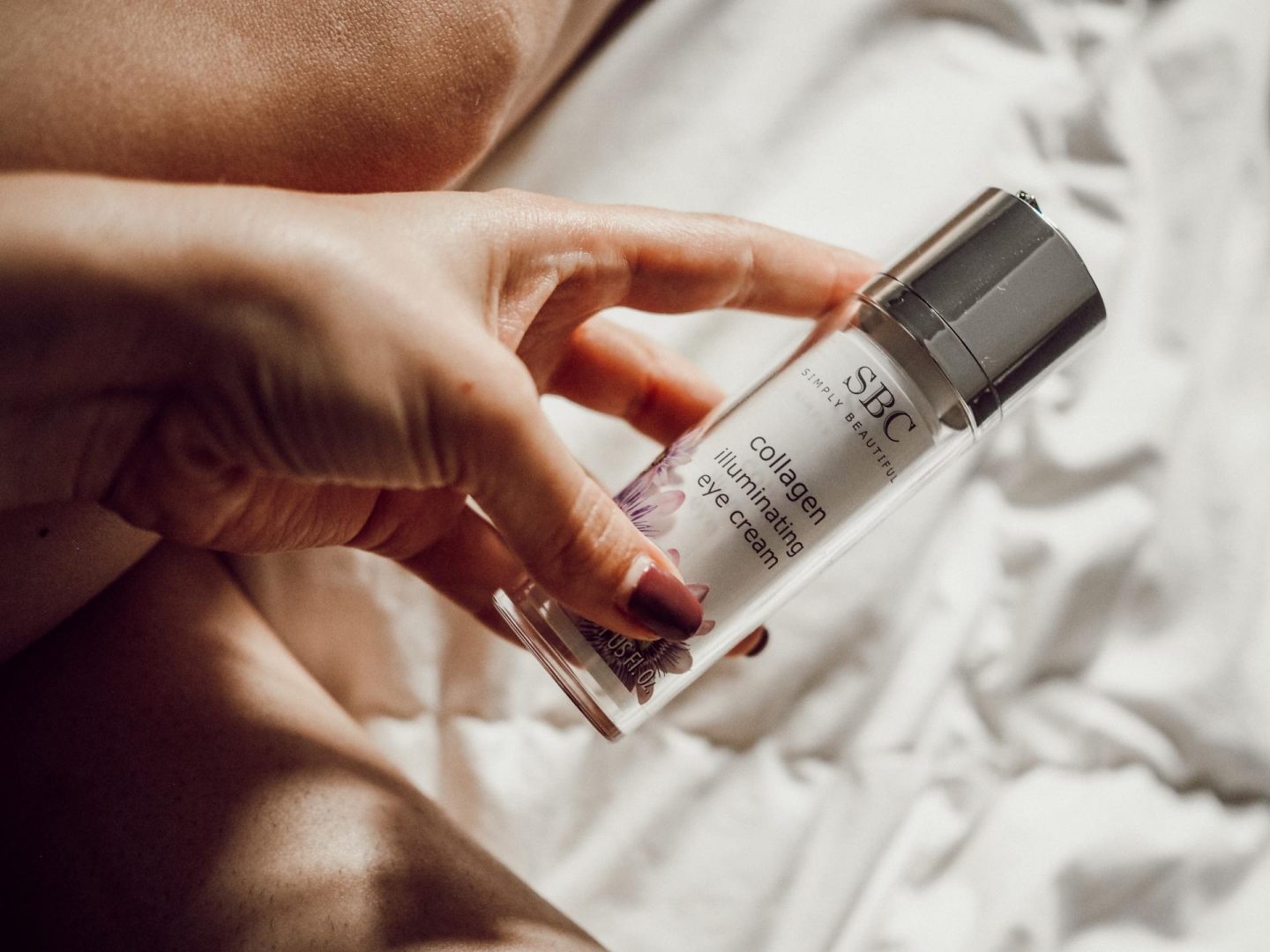 If my skin needs an instant hit of hydration in either hotter or cooler weather, then my holy grail product is aloe vera gel. Literally nothing sinks in faster into the skin. I've been using aloe vera for years and my mother had a huge plant in the house when I was growing up. Occasionally she would just cut off a tiny piece and apply it to her skin or hands if they were particularly dry. I love aloe vera for pretty much anything – to soothe sunburnt skin, to hydrate and also refresh the skin. The SBC Aloe Vera Skincare Gel is fabulous – it smells amazing and the formula, which is indeed a gel, sinks into skin like a dream, leaving a cool, hydrated feeling behind.
It's no surprise that Aloe Vera is one of the world's oldest skincare remedies – it really does work. This is a water-based gel, meaning it is not sticky at all. You can also use the SBC Aloe Vera Skincare Gel on both face and body. My hands get really dry so I've even used it on my hands before as a hand primer before I apply moisturiser. Works a treat!
Let me know if you change up your routine when the seasons change, products for dry skin that you use and what works for you! And if you want to know all about how to ease mental and physical fatigue at home (my previous post with SBC) you can read more. Don't forget to follow me on Instagram @beautyrocksblog to see these products in use!
*This is paid partnership with SBC Beauty but all views and opinions are my own, as always.