I've seen so many improvements and advances in skincare and none so much as the suncare category. From self-tans to suncreams to sun sprays to pre-tan to after-sun there are so many amazing products out there to now make sun safety a real thing. And so many products that help you really take care of your skin safely in the sun and protect it during the summer months or during a beach holiday. Never forget your sun protection I say, even on cloudy days. Here are some of the best suncare products out there! So, no more excuses not to wear sunscreen, right?
SVR Invisible Finish Dry Touch Fluid SPF50
I LOVE the SVR Invisible Finish Dry Touch Fluid with SPF50. It's a dry touch lotion/fluid that sinks into skin in a heartbeat and leaves not a trace. I like to use this on my face for daily protection. Again, this product protects against not only UVA and UVB but also infrared and visible light rays that penetrate deeper into the skin and hence cause even more skin damage. Yikes. The formula is also fortified with an antioxidant complex as well as niacinamide for cell protection. One of the best suncare products for every day.
I'm fond of a spray sunscreen for on-the-go sun protection and I love the Ultrasun Sports Spray – SPF50. This particular spray is – yes designed for those who play sports outside – but also anyone can use it. The key thing is that it is resistant to friction so for those who are actually doing activity out there in the sun – runners I'm looking at you – then this is one of the key innovative suncare products on the market. I always wear an SPF50 and especially when I'm on holiday so the fact that this is super easy to apply, the spray comes out clear, it protects against infrared light AND its waterproof makes this a perfect holiday suncare product.
Be3 Sensitive Skin Sun Protection Progressive Spray
If you are going to be in extreme sun – think Caribbean – then consider the Be3 Sun Protection Progressive Spray. This spray is quite unique in the fact that you can actually build up your level of sun protection with each spray. For example, one spray will give you SPF50 protection. Wait and let that spray dry down and then add another layer for SPF80 protection. If you are really sensitive to the sun you can do one more spray for SPF100 protection. I haven't run across a spray that offers SPF100 protection so if you really need it, here it is. I also like the scent of the spray and the formula – it's a lovely sheer mist that simply leaves your skin with a light sheen.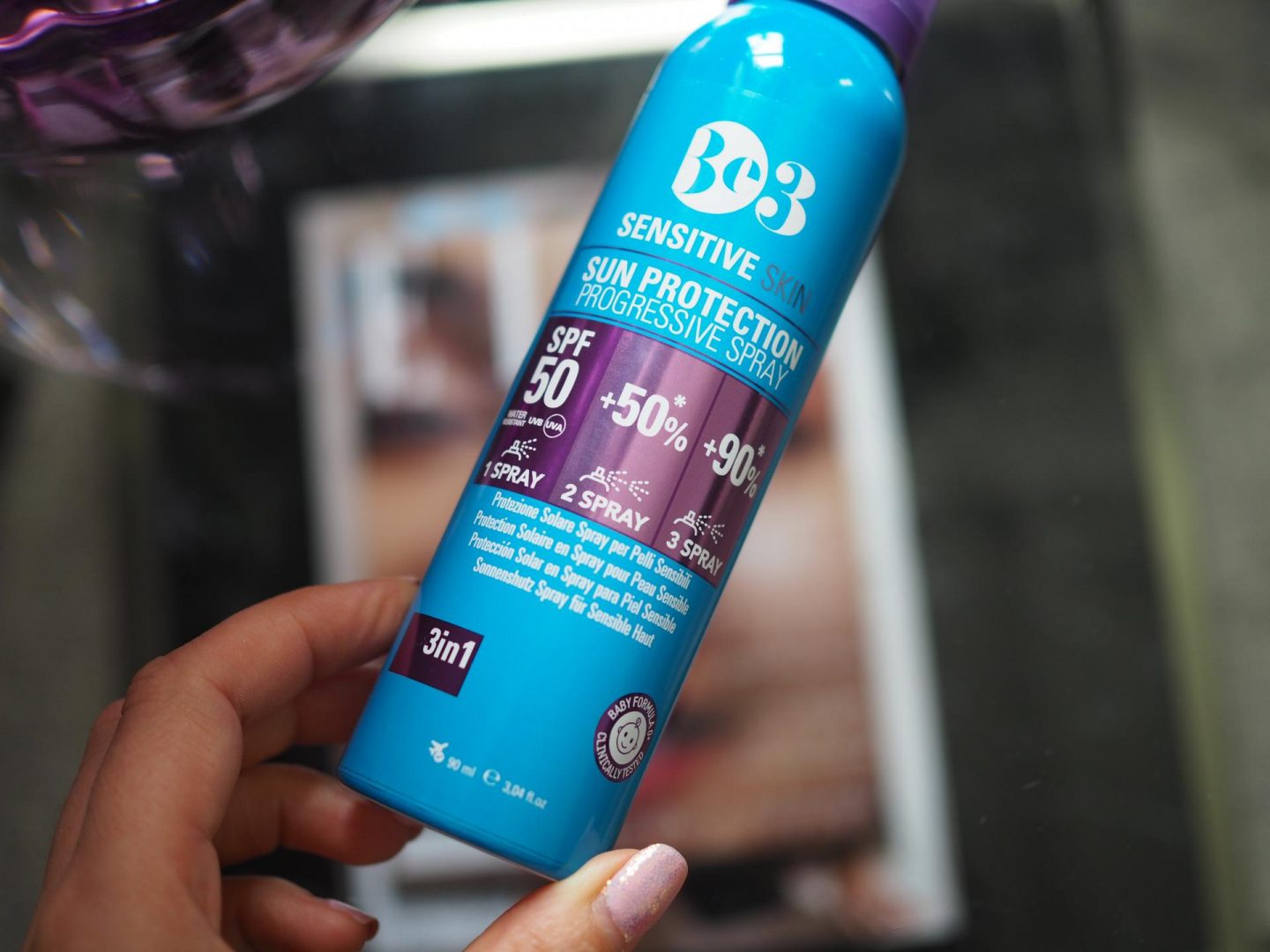 Shiseido Sports SPF50+ BB Cream
I love it when a BB cream and an SPF combine. It's the perfect marriage because it's something I would wear every single day. The Shiseido Sports SPF50+ BB Cream is my new favourite for everyday protection from the sun in the form of a really amazing BB fluid. You can even use it on wet skin! It blends beautifully into the skin for a natural, luminous finish. If you suffer from pigmentation or melasma it also contains licorice extract to help reduce the appearance of dark spots and uneven skin tone. And if you sweat in it? No problem. It's sweat-proof too.
Institut Esthederm Bronz Repair Sunkissed Protection Anti-Wrinkle & Firming Tinted Face Cream
Don't you love it when you get back from holiday and everyone says 'wow you look so tan!'. We tend to associate a tan with health and tanned glowing skin with radiance even though a tan is actually UV damage to the skin. Funny that. So, if you want that post-holiday glow then the Institut Esthederm Bronz Repair Sunkissed Cream will give you that golden glow but also protect your skin from damage from the sun. While you wear it, it protects against UVA/UVB rays and minimizes dark spots and photo-ageing. So, if you want SPF but also want the glow without the damage, this is a fabulous product to use.
Tropic Skin Shade Mineral Sun Protection SPF50
If you are looking for chemical-free, mineral sun cream then the new Tropic Shade Mineral Sun Protection with SPF50 is a great product. It's full-spectrum, water-resistant and uses zinc oxide and titatium dioxide for sun protection. I know sun creams have been one of those products that have come under scrutiny recently for harsh ingredients but fortunately they are getting better and better and if you are looking for a mineral sunscreen, this is the one.
SVR Laboratoires Sun Secure Dry Oil SPF50
I'm basically loving everything that SVR do – I haven't tried a so-so product yet! So needless to say, I was really excited to see that they launched a new suncare range for the summer. The SVR Laboratoires Sun Secure Dry Oil SPF50 is a fab product to take on holiday because it's a dry touch oil that you can use for your face, body and even your hair. Most people don't know that your hair actually needs a UV filter as well because the sun can seriously fry your strands. Hence, the perfect multi-tasker when it comes to sun protection is here. It's also water-resistant and gives your skin a lovely sheen but without the greasy residue. It also protects against UVA, UVB, visible light and infrared making it a clear winner.
Ultrasun Extreme SPF 50 Sun Protection
If you are serious about sun protection then you have to look into Ultrasun. I just got back from the Caribbean where the sun is so strong so my pigmentation was having a real party. Hence, I had to choose only the best products for extreme sun protection like the Ultrasun Extreme SPF 50 Sun Protection Cream. It absorbs 95% of UVA rays and it's got Infrared-A Protection. I also learned recently that the products are ocean-safe meaning you can swim in the sea without worrying that any residue will affect marine life. The cream is easy to apply as well, it doesn't leave any greasy residue so you can literally apply and go!
Institut Esthederm Bronze Impulse Face and Body Spray
As I said I'm quite keen on anything that sprays so I was instantly drawn to the Institut Esthederm Bronze Impulse Face and Body Spray. You can use this before you get into the sun to prep skin for sun exposure and you can spray on both face and body. It kick-starts the skin's defences against the sun and also minimises any damage caused by UVA/UVB rays. If you are going on a sunny holiday you can use this daily for up to 7 days before sun exposure to help prep the skin. And once you do get that natural sunkissed tan the spray will help to prolong the colour so it won't fade fast. Just to note people with pigmentation should not use this product and instead use a sun cream religiously.
SVR Laboratoires Sun Secure SPF50+ Blur Soft-Focus and Anti-Shine Sunscreen for Face 50ml
Okay now this product I am literally obsessed with. It's an optical blur mousse so think of it like a primer that basically blurs imperfections to make you look like you aren't wearing any make-up but you have great skin. No, really. And you know how some sunscreens make your face extremely shiny? This one does not – in fact it has a mattifying effect when you put it on your skin. It also smells incredible – like a holiday in fact. And if you wear it on your face you can smell that scent all day long.
Shiseido Invisible Protection Mist SPF50
I'm obsessed with sunscreen mists and the new Shiseido Invisible Protective Mist is incredible because it really is invisible. You can also use it during sports activities – it's both water-resistant and sweat-proof. It feels really cooling and soothing on the skin when you apply it so it not only protects but it feels good going on too. Now there are no excuses for you to not wear SPF!
Rituals Sun Protection Milky Spray SPF50
I love Rituals for bodycare products but I had no idea that they did any products with SPF. Well now they do! The new Rituals of Karma range has a Sun Protection Milky Spray with an SPF50 that feels super hydrating when it lands on the skin. I love a milky toner and this reminds me of something like that with a nice cool mist mechanic that you can use on face or body. It also contains organic White Tea, natural Vitamin E and Gingkgo Biloba for healthier skin.
As I said there have been so many advancements in the area of suncare including after-sun and after-tan products. The Ultrasun Afternsun Tan Booster both enhances your natural tan and also nourishes post-holiday skin that has been exposed to the sun. Skin can get really dehydrated from excessive sun exposure so it is really important to treat it with care after. I had a facial after my recent sunny holiday and my skin is hardly ever dehydrated but the therapist said my skin was very dehydrated which makes my point that sun dehydrates the skin. So, to prolong your tan and also care for your skin, the Ultrasun Aftersun Tan Booster is perfecto.
What are the best suncare products you have come across lately? Share them with me or shoot me a DM on Instagram @beautyrocksblog.
*This post contains PR samples sent for review consideration with no obligation to post. All words and views are my own, as always.