I feel like I should start titling all my recent posts with 'My German Summer' because I've spent a lot of time in Germany this summer and it's been wonderful! If you caught my recent post about my city break in Hamburg then I'm really excited to share with you a trip I took to Munich a few weeks after. Munich is a city I really love and in fact, it's my third visit to the area but this is the first time I'm writing about it on my blog. It's interesting as well because each of the experiences I've had in Munich on each one of my trips has been completely and totally different.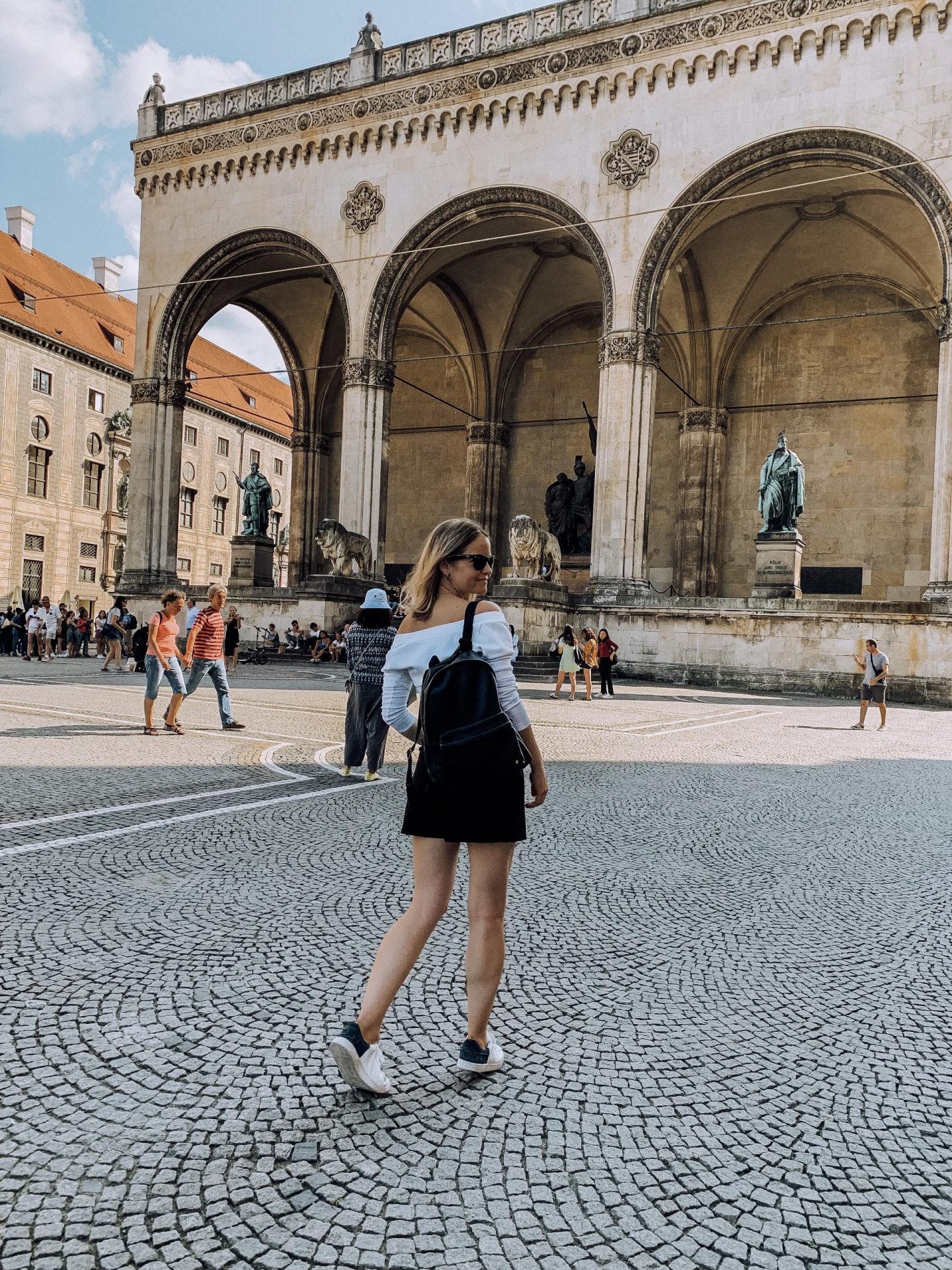 The first time I came to Munich I was a student so I was maybe 19 or 20 and I remember going with a group of other students on an exchange trip. We went in the dead of winter and I remember being freezing yet we did some day trips out to Neuschwanstein Castle and I remember hiking up to the castle on some back path in the snow. Obviously as a student we were on a budget so I remember a lot of schnitzel meals and beer halls – as you do when you are a student.
The second time I went to Munich I went with my sister and we spent a full 7 days in the city during the summer which was lovely. We stayed with a host family and not only covered the city and all the hot spots but also took day trips out to Neuschwanstein Castle as well as spent a day in Salzburg, Austria and also Baden-Baden, a spa town not too far out of Munich.
Now this trip again was something totally different. Myself and Mona from Mona's Eyes Beauty headed out on a trip as bloggers to experience the city from a totally different perspective and with more of a mission to see Munich from the higher end – think leisurely strolls through the city to see the hot spots, fine dining and luxury accommodation. I'm lucky that I was able to experience Munich on so many levels and again, this was an entirely different experience.
But our experience actually started the night before leaving for Munich. Because we had such an early flight we were lucky enough to get one night at Bloc Hotel in Gatwick. You know those super eye-watering type of flights that you book and at the time you are thinking it will be fine but then it gets to the night before and you think 'oh my goodness I have to set my alarm for 2am' type of flight. So, we had that kind of early morning flight the day we set off to Munich so the Bloc Hotels in Gatwick came to our rescue. It's the perfect modern hotel to book in if you have a super early the flight the next day. You can simply get a room and have a leisurely night and get those extra few hours of sleep so you are fully prepared for your early flight the next morning.
Everything in the Bloc Hotels is digital as well – all the lights, TV and black out curtains are operated by a touch-screen panel next to the bed. The rooms are also super-quiet – you would never ever guess that you were next to the runway – literally you can see planes taking off by your bedside so if you are a plane spotter (much like a train spotter) then this is a dream.
I always like to take a bit of extra time in the airport as well to shop at World Duty Free Gatwick and browse the beauty isles. You can save so much money if you know what you want to buy before-hand. I always head to Chanel so picked up two teal eyeliners with a £40 voucher that was kindly gifted by World Duty Free. But trust me, I've spent plenty of my own money at Duty Free! You can also pre-order and pick up at the airport at Duty Free prices so you don't have to feel rushed for time.
Upon arrival to Munich it was sunny and bright and we headed to the Hilton Munich City which is a beautiful hotel that has been recently refurbished. Our beautiful suite was incredible with a large comfy bed, a dressing room, huge bathroom and a living room. Plenty of room for two people and enough room to also feel like you can relax in the hotel and make yourself at home.
If you read my post about Hamburg you will know I always rave about how efficient and easy German transportation is and Munich is no different. You can easily get to Hilton Munich City from the airport because the hotel is right next to Rosenheimer Platz S-Bahn station which has a direct connection to the airport. Not only is the hotel beautiful but it's also within 10-minutes walking distance from Munich city centre. The location is perfect and if you want to explore Munich by foot then this is the perfect spot.
We arrived ready to explore the town and to get something to eat nearby. We chose Rosi Kaffeehaus just around the corner from the Hilton Munich City hotel because it had good reviews on Trip Advisor and the coffees looked good. We had brunch and coffees – they had my beloved Havermilch lattes (oat milk lattes) so all was right in the world.
Once we fueled up, we headed down to Marienplatz which is the main city centre in Munich and is absolutely gorgeous with beautiful gothic architecture and the famous Glockenspiel which rings in the town hall at 11am and noon. The Glokenspiel alone draws millions of tourists every year and it's well worth a visit. The whole area almost looks like a toy town, it's that perfect.
The whole area is so lovely to explore around Marienplatz and there are so many good shopping options as well. It's just busy enough as well without feeling overwhelming. When we visited the weather was absolutely glorious and the sunshine was out in full force. We wandered amongst the side streets until we reached Englischer Garten (English Garden) which was so lovely and peaceful with classical musicians playing in the sun.
Near by the Odeonplatz English Garden entrance you will also find the Theatine Church which is definitely worth a stop in. I've been inside now 3 times on 3 different visits and it never gets old. The outside is a grand yellow façade but when you enter inside it's all white marble and stone. It was designed by Italian architects in the Baroque style and it's a Catholic church, of course. There's a lot of things to see in this area as well including the Neoclassical National Theatre on Max-Joseph-Platz which is a grand opera house showcasing everything from orchestra concerts to ballet to operas.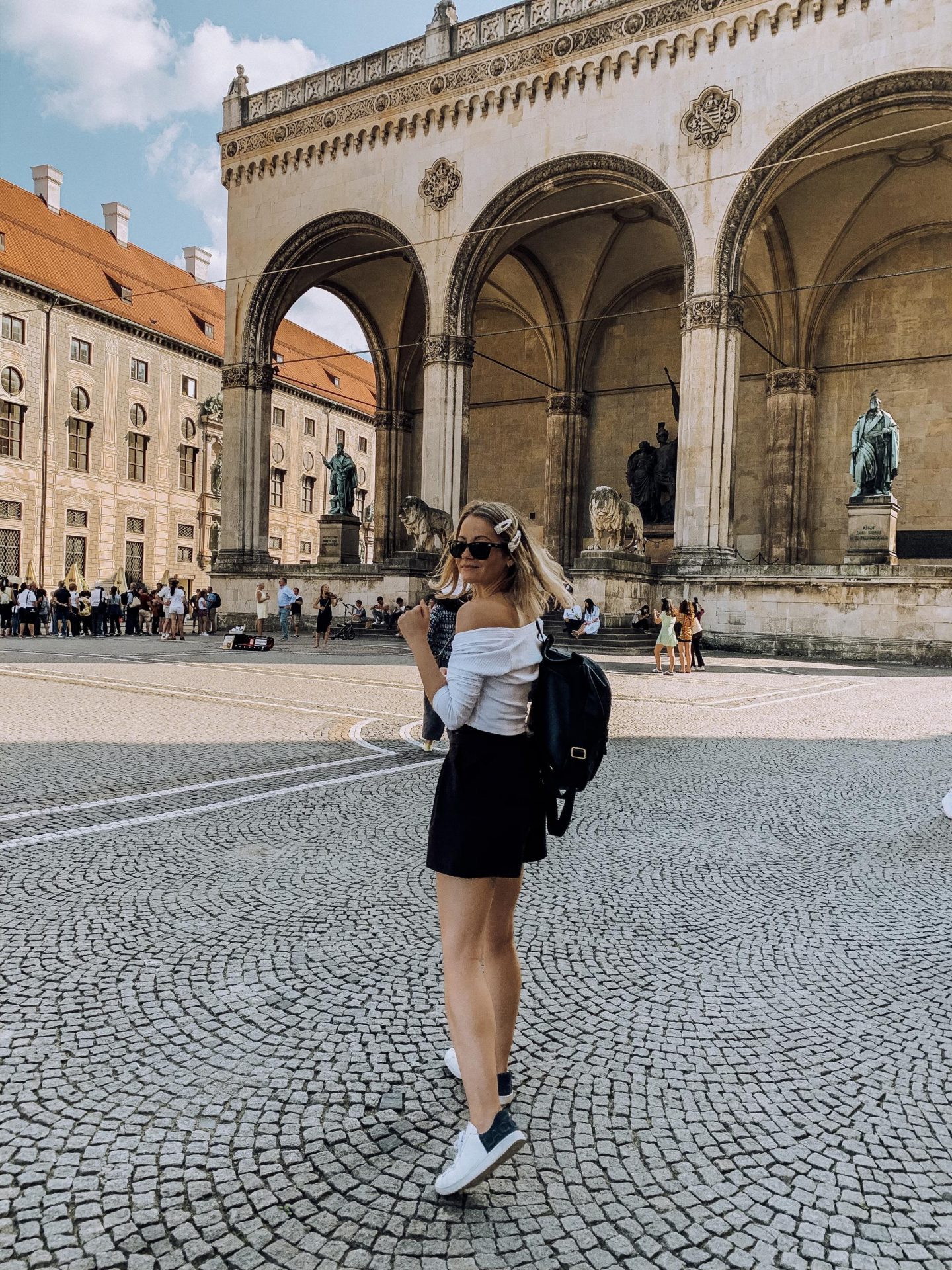 After all the walking we headed back to the Hilton Munich City for a rest and also to get ready for dinner at the Juliet Rose Bar which is a restaurant and cocktail bar in the hotel which serves some incredible food and amazing drinks. The interiors of the bar are beautiful so it's certainly worth a visit if you are staying near the city centre or at Hilton Munich City.
The cocktails are really unique here as they are separated into categories such as woody, herbal, floral and fruity so it almost feels like you are at a fragrance class where you learn about all the top, heart and base notes of a fragrance. The whole theme is 'root to fruit' and the rose botanicals are at the heart of all of the drinks. So, there's a real connection to scent and taste when you come to Juliet Rose Bar to try the cocktails. I chose the Thyme Traveller which was served in a giant copper globe and definitely had herbal aromas with the thyme, which is meant to be a mood booster. It certainly perked me up, that's for sure!
The food at Juliet Rose bar is fantastic. The menu is small but it's quality over quantity here and everything has been thoughtfully considered in terms of the menu choices. We had the German tapas to start – the Pickles and Padrons I believe it's called on the menu – which was delicious with duck pastrami, blue cheese, pickles and padron peppers.
I chose a main of the beef tartare and it was so delicious, served with cous-cous and a side of hummus. Mona had the beef burger and it also looked incredible. We topped it all off with the molten chocolate cake – the perfect end to a lovely dinner.
**
The next day we had breakfast at the hotel and just to mention the breakfast at Hilton Munich City hotel is absolutely delicious with all the normal delights one would expect such as an omelet station, fresh fruit, breads, yogurts, pancakes, etc. but also some German specialties such as pretzels and Bavarian sausages. I love German pretzels – they are so delicious.
Once we had breakfast we set out on another day of exploration around Munich, this time deciding to wander aimlessly down the Isar River which is near to the hotel. There are so many river beaches in Munich and the water is so clear in the river, coming straight from the Alps. Lots of people are swimming in the river or sunning on the river bank – it's absolutely glorious. What a great thing to have in your city. Also, to note is all the gorgeous doggies around Munich – everywhere is dog-friendly!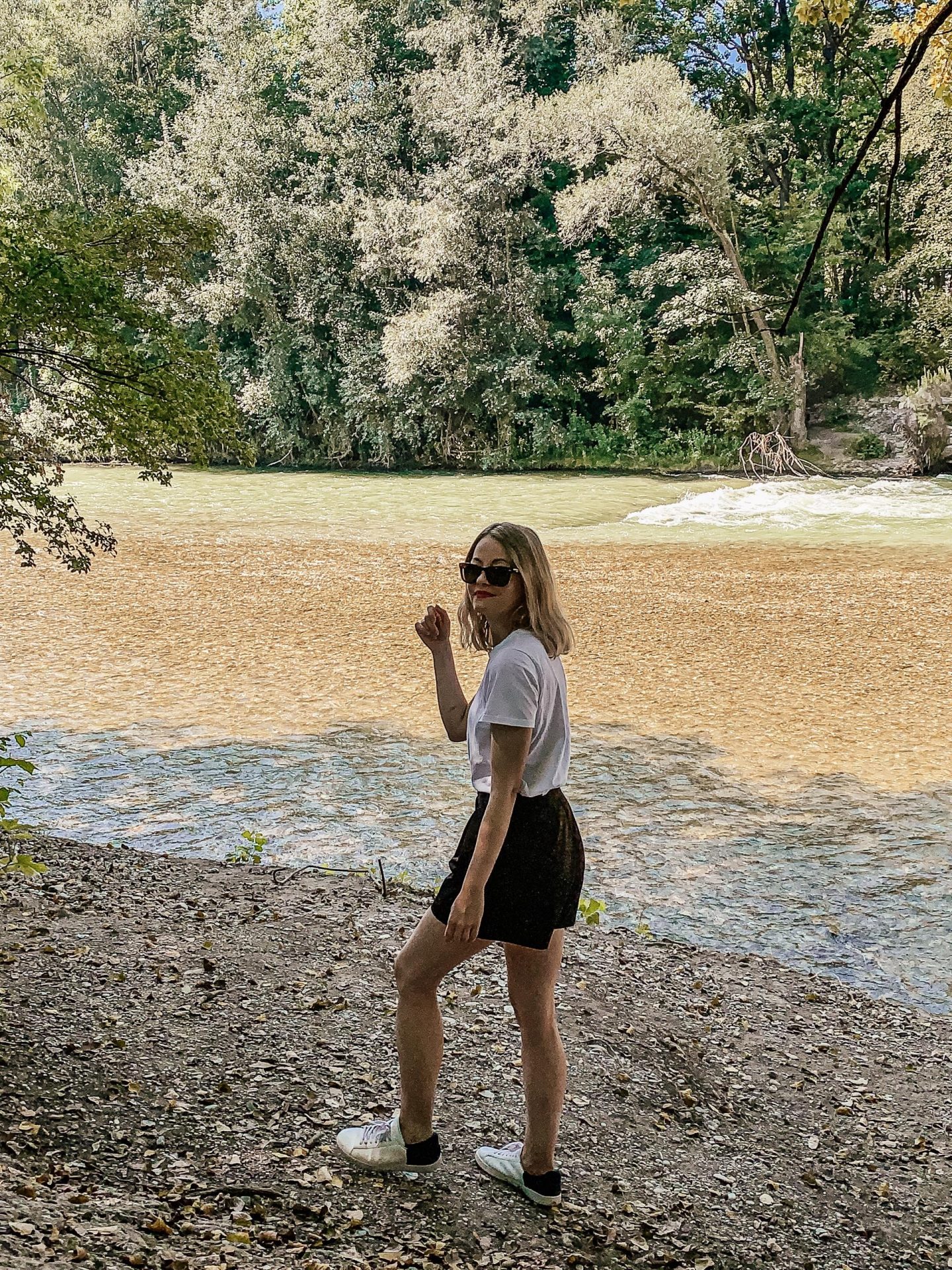 We stopped at the Munich Residenz back on our way into Munich town centre which is a 14th-century palace built for the Wittelsbach monarchs which has 10 courtyards and 130 rooms. Imagine trying to upkeep that!
If you are a foodie at heart there are so many cake shops in Munich and the cake and bread selection is incredible. We stopped at Rischart in Marienplatz to order the Munich Superstar which you can see everywhere which is the most delicious plum cake (my grandmother used to make this) and watch the world go by before dinner. You can sit on the rooftop and if it's a sunny day like it was when we went, it's glorious. If you want to try a pretzel in Munich (and you really should) here is also a perfect place to get it.
For dinner we headed to the Louis Grillroom which I would highly recommend. It's right off of Marienplatz but it's tucked away so it feels quiet. I saw only locals there as well so if you want to go where the locals go, head to the Louis Grillroom. The Louis Grillroom specializes in steak from grass-fed Gold Label Nebraska steak to Kobe beef from Japan. For those who aren't meat eaters but like fish there are also so many lovely choices for seafood from ceviche to king prawns. If you are vegan there are also choices like cauliflower steak as well.
The drinks menu is also innovative with herbal spritzes and delicious and unique choices for cocktails. I chose a Marito herbal spritz with Marito herbal liquor, basil, lime, Fever Tree Medeterranean Tonic.
Even simple things are so delicious here like the warm sour-dough bread with sea salt and homemade organic butter. For starters we tried the ceviche with tiger's milk and coriander – absolutely delicious!
Now I don't eat a lot of meat but seeing as the specialty was beef we decided to go with the Ladies cut which is a smaller cut of meat which comes from the rare cuts from french Charolais, Limousin and Salers cattle that are provided in artisan 3* michelin starred restaurants. I mean how can I say no? On the rare occasion I do eat steak I love it with olive oil and sea salt on the side. My goodness what a dream. With a side of spinach salad with cranberries and sunflower seeds it was certainly a meal to remember. The staff are also incredible at Louis Grillroom and can guide you in the right direction when choosing what to order and also selecting a wine.
We were in a food coma walking back to the hotel and it was definitely easy to sink into the soft bed and drift into sweet dreams.
**
The next morning, we woke up and had another amazing breakfast at Hilton Munich City and then headed to the station to head to the Bavarian Alps. And this is where our Munich adventure had to end but who knows, I might be back a 4th time! Stay tuned for our Bavarian adventure in the Alps.
*This trip includes a media review of the Hilton Munich City and also Juliet Rose Bar as well as The Louis Grillroom but all opinions and words are my own, as always