As I get more and more into health and wellness these days, I'm taking a closer look at not only what I'm putting into my body (clean, organic healthy food) but also what I'm putting on my body (clean, natural skincare – think green beauty). I've always been into the natural movement, having grown up with parents who have a huge garden where they grew all of their own vegetables, recycled like it was a religion and lived a more natural life. I think this appreciation for nature and plants from a young age really set me up for a life of healthy living.
I also like to know that what I'm putting on my skin is not only kind to my body but also kind to the earth. I've recently been testing out some incredible products from D'Alchemy Skincare that are some of the most potent and rich plant-active formulations I've seen. So – what's my current skincare routine with these products you ask?
First, I start off with the Purifying Facial Cleanser. This is a lovely gel facial wash that feels really gentle to the skin. I love to use this first thing in the morning for a hit of aromatherapy – all of the D'Alchemy products smell incredible! The D'Alchemy Purifying Facial Cleanser is soap-free so it won't disrupt the natural pH balance of your skin.
Also, just to note none of the D'Alchemy products contain parabens, phthalates, sulfates (SLS/SLES), mineral oil, petroleum, paraffin, silicones, lanolin, PEGs, MEA/DEA/TEA, PABA, animal by-products or synthetic fragrances so you can feel safe knowing that what you are using is pure and natural and won't disrupt your hormones or body in any way. This is truly green beauty at its best!
After cleansing I love to exfoliate. Exfoliating is key to getting that smoothy, glassy skin and exfoliating gently every day really helped improve my skin texture and reduce my pore size so I am a huge advocate of it! I love the D'Alchemy Natural Micro-Dermabrasion Peel. This scrub smells incredible and it's a real treat for the skin. I hate wimpy scrubs and this is a really powerful one without being too harsh – it's also 98% natural and contains white clay, rice powder, soothing and cleansing plant hydrosols and extracts, as well as small amounts of specially selected plant oils. Because this is a more powerful scrub that really gets rid of the dead skin cells, it's good to use this 1 to 2 times per week. A wonderful green beauty product to add to your skincare routine.
After cleansing and exfoliating my skin feels so good, so it's time to move on to the rest of my skincare routine! Because I've prepped my skin properly to start, the products I put on afterwards will sink in so much better. My next step is toner and when I tone, I prefer to use a hydrating toner rather than an astringent toner. With toning, I want to put back some moisture into the skin and further prep it for applying my moisturiser or my serum afterwards. The D'Alchemy Hydrating Dew Toner is one of my favourite products from the range – it's literally like a tall glass of water for the skin. Containing rose hydrosol, Damask rose oil, and soothing sea algae extracts this hydrating spray will revive and refresh the skin. Also great for a green beauty moisture boost throughout the day!
Once I've toned and hydrated the skin it's time for moisturiser! I absolutely LOVE the D'Alchemy Age Cancellation Booster – it is SO hydrating for my skin. This is fabulous if you want a moisturiser that will help to smooth out fine lines and make your skin perkier but will not cause any irritation or spots. I sometimes find that with heavy anti-ageing creams I get spots or inflammation flares but this one is designed to not do that. The D'Alchemy Age Cancellation Booster stimulates collagen fibres to visibly tone and improve the elasticity of the skin. Also, it smells incredible!
One thing I never forget in my skincare routine is eye cream. The skin around the undereye area is really thin and it needs extra special care. The needs around the eye as well are different from the rest of the skin – for example, you don't get dark circles on your forehead, right? The D'Alchemy Age-Delay Eye Concentrate is a wonderful formula that feels so rich and nourishing. I've got fine lines under my eyes that I'm always trying to tackle and this helps to soothe and hydrate the undereye area. This eye cream helps to minimize the signs of stress and fatigue, making the whole undereye area look more refreshed. Because looking refreshed is what we all want, isn't it? No one wants to look tired!
The last step in my skincare routine is to use a product specifically targeted at my neck! As I age, the skin on my neck is getting looser. I also have noticed signs of creasing from sleeping and from tech neck – bending my neck down to look at the computer screen or my phone. Therefore, I need something specifically targeted to this area to help tackle those lines!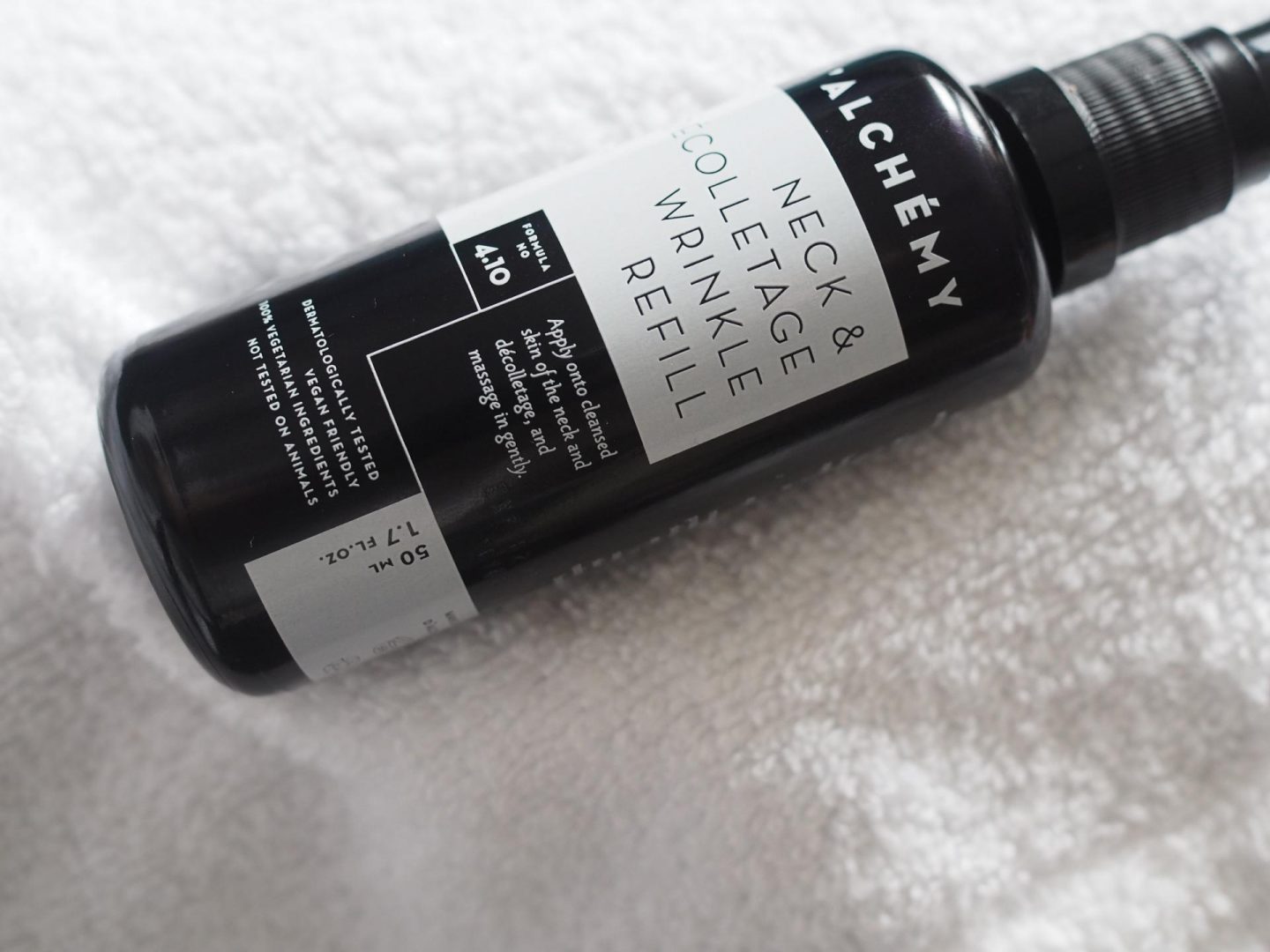 The D'Alchemy Neck & Decolletage Wrinkle Refill is fabulous at filling up and smoothing out wrinkle lines on the neck and chest area. I get fine lines and wrinkles from sleeping on my side and and this helps to smooth them out. The formula is a rich cream texture that actually stimulates the production of beta-endorphins in the skin, which helps to reduce the negative effects of stress on the skin.
I also never leave the house without hand cream! The D'Alchemy Spectacular Hand Therapy is a beautiful cream that smells incredible with a blend of essential oils like sandalwood, mandarin and grapefruit so it instantly boosts your mood. I like to apply it to my hands, massage in and then take a few deep breaths of the lovely scent to help calm my mind. The cream leaves an invisible film on the hands that helps protect against external aggressors. Hands (like the neck) are often one of the first places to show true age so I always make sure to protect my hands no matter what!
What is something that you never forget in your skincare routine?
*This post was in collaboration with D'Alchemy Skincare but all words are written by myself and options are my own as usual!