If you didn't know by now stress is a killer. It ages us, it puts our cells in emergency mode and it tires out our organs and bodies. It also causes disease. In my quest for 'New Year, New You' in 2017, I am hoping to reduce the effects of stress and also take care of myself a bit more. 2016 was crazy and super busy – both personally and professionally. I know for a fact that I've pretty much really worn myself out and a lot of that is to do with stress and being constantly busy. So imagine my delight to stumble across Hayo'u – a beauty brand based in Chinese Medicine that addresses stress by making well-thought out products that help reduce the damage that stress causes. Where do I sign up?
I know that acupressure, acupuncture and lymphatic drainage massage are all proven remedies for stress and a great thing that I've tried from Hayo'u that you can use at home is the Beauty Restorer. I hold a lot of tension on my face and you might too but you just don't know it yet. The Face Restorer is inspired from Gua Sha, an East Asian therapeutic healing technique that has been widely practised in China for thousands of years. It is defined as 'using a round-edged tool (traditionally made of materials such as jade or metal) to press-stroke the skin until redness appears – hence the name. 'Gua' means to scrape or rub, whilst 'Sha' describes the redness that results.'
Essentially stress builds up, creates toxicity and Gua Sha helps to draw it out and clear toxins. It increases circulation and helps to prevent these toxins from settling in. I LOVE the Beauty Restorer – it a nutshell it feels amazing – like a deep tissue massage for the face that helps relax muscles and ease out tension. I also found that it helps to improve skin tone by increasing circulation as well. The tool is made of cool green Jade that feels soothing and cooling on the skin and every groove is designed to adhere to the curves of your face and hit every pressure point.
This feels particularly good swept in one direction (towards the ears) on the jawline and lower cheeks as well as across the forehead and also pressed onto the accupressure pressure points in between your eyebrows. As I mentioned before I carry a lot of tension in my jaw and this really helps to relieve it. I also love using this down the sides of my neck. I suffer from chronic neck pain and this really helps to ease the tension.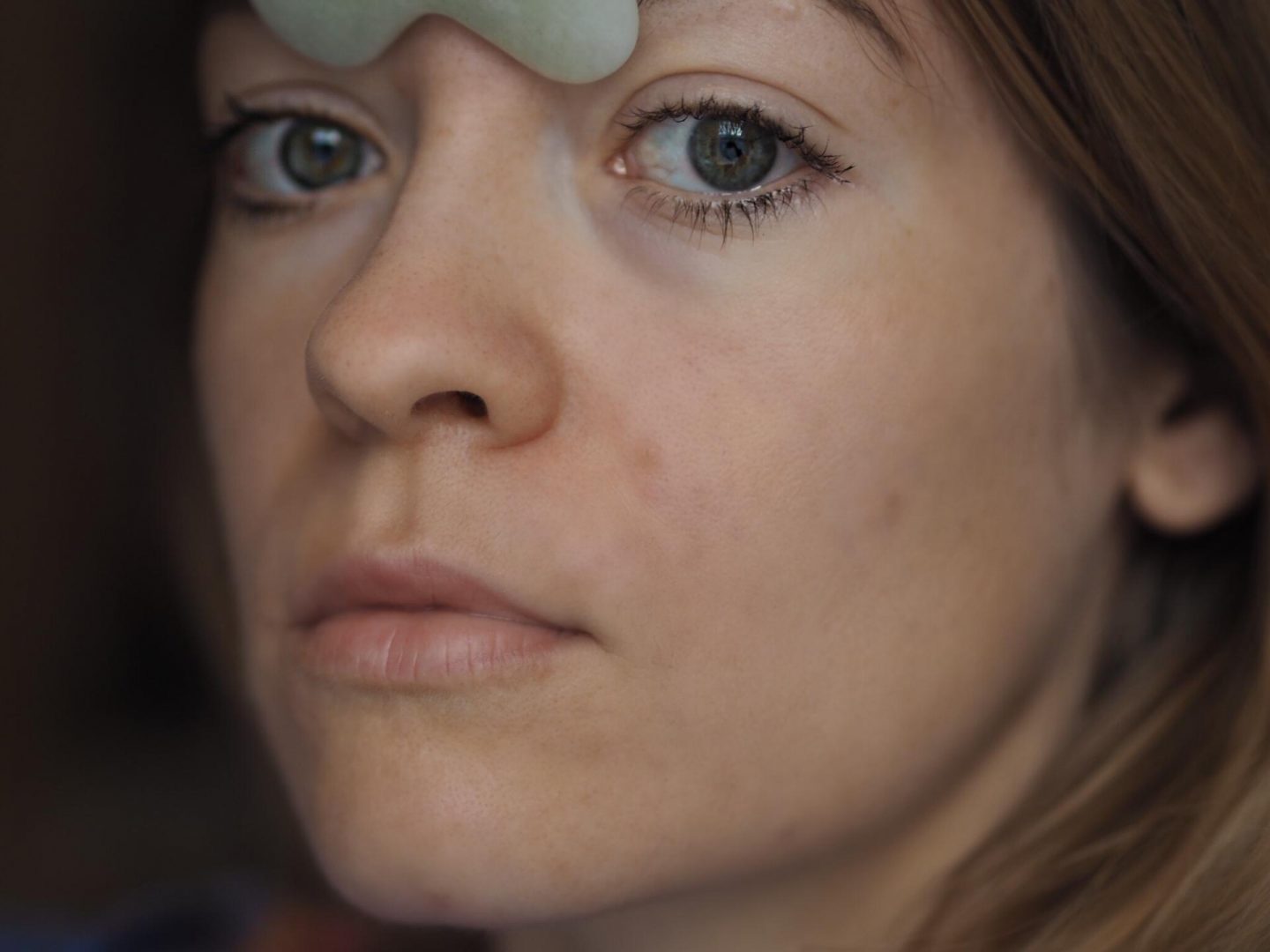 Now to spread the Gua Sha to other parts of the body you can use the Body Restorer. This is much like the Face Restorer except the tool has thinner edges that goes in deeper and is more suitable to use on the body. Again, this tool is amazing. It fits inside your handbag and you can take this with you anywhere – on the plane, to the office – anywhere. This is specifically designed for the body and is an ergonomically shaped self-massage tool that you can use across neck, shoulders, upper and lower back. I get sore and achy really easily as well as tension throughout the body and this tool is a little lifesaver. I use it across the upper part of the chest as well as neck and arms. You can even use it on the legs and feet and it really does help ease tension very easily. You just need to use this one minute a day to help ease tension!
Another good way to ease tension is by taking a long, hot bath. Honestly there is nothing much that can top that. I am a soak in the bath kind of girl and the Hayo-u Bathe-Right Bath Minerals will take you straight to bliss. Honestly the bath soak is like heaven in a jar. The formula smells out of this world amazing and contains Himalayan pink salt, magnesium and maris sal which all help to draw out deeply held tension. Infused with lotus flower, lemongrass and frankincense to 'lift your spirit and calm your shen.'
I could seriously live in this stuff – it smells fantastic and it also instantly calms and soothes. I also didn't know before using this that Himalayan sea salt contains over eighty minerals to help ph balance your body, increase circulation, lower blood pressure and eliminate toxins. If you are looking for soothing and detoxifying bath salts then look no further.
So once you have treated the body and mind you have to treat the face. Stress shows up in the face unfortunately and I love a good facial oil with aromatherapy benefits to use in the evening before going to bed to help reduce some of that stress. The Hayo'u Treat-Rite Facial Oil is a gorgeous, amazing-smelling facial oil that will again, send you straight to bliss. The oil contains camellia and palmarosa oils to help 'safeguard the delicate skin of your face and neck and help reverse the damaging effects of stress.' Again, this is chock-full of aromatherapy benefits and you can use this with the Beauty Restorer tool as well to really get a lovely beneficial face massage that will soothe your face and your mind.
To find out more about Hayo'u see HERE. What's your New Year, New You goals?
Don't forget to follow me on Instagram/Twitter @beautyrocksblog for all my latest adventures!