The land of fire and ice. Iceland is always a place I wanted to go ever since I was a teenager listening to Bjork songs. I remember seeing photos of Icelandic horses, lava fields and steam literally rising from a volcanic land and thinking now this is a place I have to go to. When I was younger, I used to print out photos found on the internet of exotic places and tape them on my wall. Thinking about it, it was most likely the picture of a pair of Icelandic horses printed on my wall that probably manifested not one but TWO trips to Iceland.
I was lucky enough to visit Iceland a few years ago to get a taste of what this tiny but breath-taking country had to offer from the Pingvellir National Park, the Geysir Geothermal Area and Gullfoss waterfall. On my second and most recent visit I was taken by The Blogger Programme to Reykjavik with two big boxes to tick – the Blue Lagoon and the Northern Lights.
Iceland is pretty easy to get to from the UK. We flew from Stansted Airport (if you are coming from central London just hop on the Stansted Express from Liverpool Street) which I personally love because there is a Joe and The Juice (right before departures) that do amazing oat milk lattes! We were incredibly lucky to get a Fast Track pass through security which saves a lot of time waiting in queues. With extra time saved on waiting to go through security this gave us a bit more time shopping and getting beauty treats in World Duty Free (I bought a pair of sunglasses with a voucher kindly gifted by Stansted Airport as well as a mini arm massage from Elemis).
Easy Jet flies from Stansted and the flight to Reykjavik is around 3 hours so not too bad. Upon arrival into Reykavik, we stopped for (another) Joe and The Juice Oat latte (the Reykjavik airport is strangely filled with Joe and The Juice shops – I think I counted 3?) before heading to the Radisson Blu Saga Hotel in Reykjavik. It's hard to choose a hotel in Reykjavik from previous experience and the Radisson Blu Saga is only about a 15-minute walk to the town centre so the distance from the hotel to the centre of Reykjavik is not too far.
We didn't have much time to freshen up before dinner at the new Mimir Restaurant in the Radisson Blu Saga. Therefore, it was a drop the bags, change and go situation which was fine by me because by the time we got to the restaurant I was starving. The food at the Radisson Blu Saga is really so good. Mimir has delicious food and the restaurant is actually owned by the Farmers Association of Iceland meaning that the restaurant works with the farms in Iceland and sources everything on the menu locally, as it should be everywhere. We should be eating seasonally and what we can grow locally which gives money back to our own economy and is better for the environment.
I ordered the Ling (type of cod) and waffles for dessert – absolutely delicious. I would highly recommend going to Mimir whether you are staying at the Radisson Blue Saga or not. I have to add that the breakfast at the Radisson Blu Saga is also amazing with fresh smoothies, Skyr (my Iceland foodie obsession), omelettes, etc. so I was really impressed by the food available at the hotel. So for a foodie, it's a great place to stay.
On our first day out we headed to the Blue Lagoon. The Blue Lagoon is one of the 25 Natural Wonders of the World and it's a geothermal hot spring that is located within a lava field about 45 minutes from Reykjavik. I would definitely recommend adding this to your bucket list when you go to Iceland, you just simply can't miss it. The water really is such a striking colour of milky blue and although it's freezing outside (we experienced a wind storm, sleet storm and rain storm within the 3 hours we were there) the water is so incredibly soothing and warm. They say there are four seasons in an hour in Iceland and I have to say that's actually true!
The water's milky blue shade is due to its high silica content and if you slide your feet on the bottom of the lagoon you can feel a layer of white mud. This white mud is good for the skin and you can actually take advantage of the free silica mud masks at the mask bar in the Blue Lagoon!
The water, being full of silica (which is really good for the skin) unfortunately does not have the same effect on the hair. Silica can dry your hair out and make it feel like straw if you don't protect it so a key beauty tip is to make sure you put conditioner in your hair before getting in the water and take a swim cap if you can! I used the Maria Nila True Soft Conditioner which kept my hair silky and soft whilst in the water (I applied the Maria Nila Structure Repair Mask as well on my hair later that evening to get out any remaining silica in my hair and to soften and treat it).
Also be prepared to really wash your swimwear after being in the Blue Lagoon. I wore my brand new Fig Leaves swimwear (love their swimwear and lingerie!) in the water and if you do have nice swimwear make sure you give it a good rinse in the showers when you get out. Otherwise it will be stiff with silica by the time you get home!
We spent 3 hours at the Blue Lagoon which I thought was a really good amount of time because this allows you enough time to relax, take some photos and also enjoy a Skyr smoothie or two at the drink bar (yes you can even order champagne!).
After leaving the Blue Lagoon we headed back to the Radisson Blu Saga to get ready for dinner at Burro Restaurant in the Reykjavik town centre. So after putting on my Maria Nila True Soft Hair Mask and Pixi FortifEYE gel eye masks to soothe my hair and skin from the weather, we headed to Burro. I have to say the foodie scene is AMAZING in Reykjavik. If you are a foodie you will absolutely love it and I could see a real difference and improvement in the food scene from my recent trip compared to my first trip to Iceland a few years ago.
Burro must not be missed if you are looking for places to eat in Reykjavik. We had a tasting menu (I went for the veggie option) that had about 6 tapa-like tasters inspired by food from South America. The entire restaurant is very Instagramable as well so it makes for a nice ambience and the food is INCREDIBLE! My favourite dish was the GRÆNMETIS TACO which is a green soft taco with smoked sweet potato, charlot and Japanese enoki (mushroom). The smoked celeriac with pickled mustard seeds, potatoes and BBQ sauce was also amazing (and the crab soup was incredible too). I would definitely recommend the 6-course tasting menu if you do go – it's South American fusion at its best and something unexpected in Reykjavik.
After we had filled our stomachs with such amazing food, we headed back to the Radisson Blu Saga to get ready to see the Northern Lights with Isango Travels. Now the thing about Northern Lights Tours in Iceland is that you are never guaranteed to see them and this is the same everywhere but it is most definitely worth a try! Because if you see them, of course it's an incredible experience.
We headed out on the road to hit several viewing points for the Northern Lights with Isango Travels – the whole tour is about 4 or 5 hours depending on if you see the lights. You depart in the evening around 8:30pm and get back around midnight (or even 1 to 2am) so you need some energy for this tour although the bus is very cosy and you can squeeze in a nap on the way to see the lights. We sadly didn't get a chance to see the lights this time but again I would highly recommend booking with Isango simply as the guides are so good and they do try really hard to find the lights.
One tip – wrap up warm! The weather in Iceland isn't warm and you know what they say – there's no such thing as bad weather, just inappropriate clothing. As sad as we were not to see the Northern Lights it was still a fun tour and nice to be outside after dark looking up at the starry night sky nonetheless.
***
The next day we had a free morning before heading for lunch at Kopar, an incredible restaurant on the harbour that serves fresh Icelandic fare. Icelandic seafood is incredible by the way and if you like fish, the country is a pescetarian's dream. I love that the restaurants we went to were all about farm to table and using local produce at their restaurants to reduce air miles on food.
At Kopar, I had the most incredible and delicious crab soup. It's a dish that seems to be very popular in Iceland and definitely worth trying for the creamy, rich flavour. It was followed by the catch of the day which was the ling fish (very popular in Iceland) on a bed of barley. The restaurant, being on the harbour also offers some incredible panoramic views so I would definitely recommend it.
We walked off lunch in the Reykjavik Old Town which is definitely worth a wander. There's lots of cafes in the area and it's good to note that Iceland does have good coffee!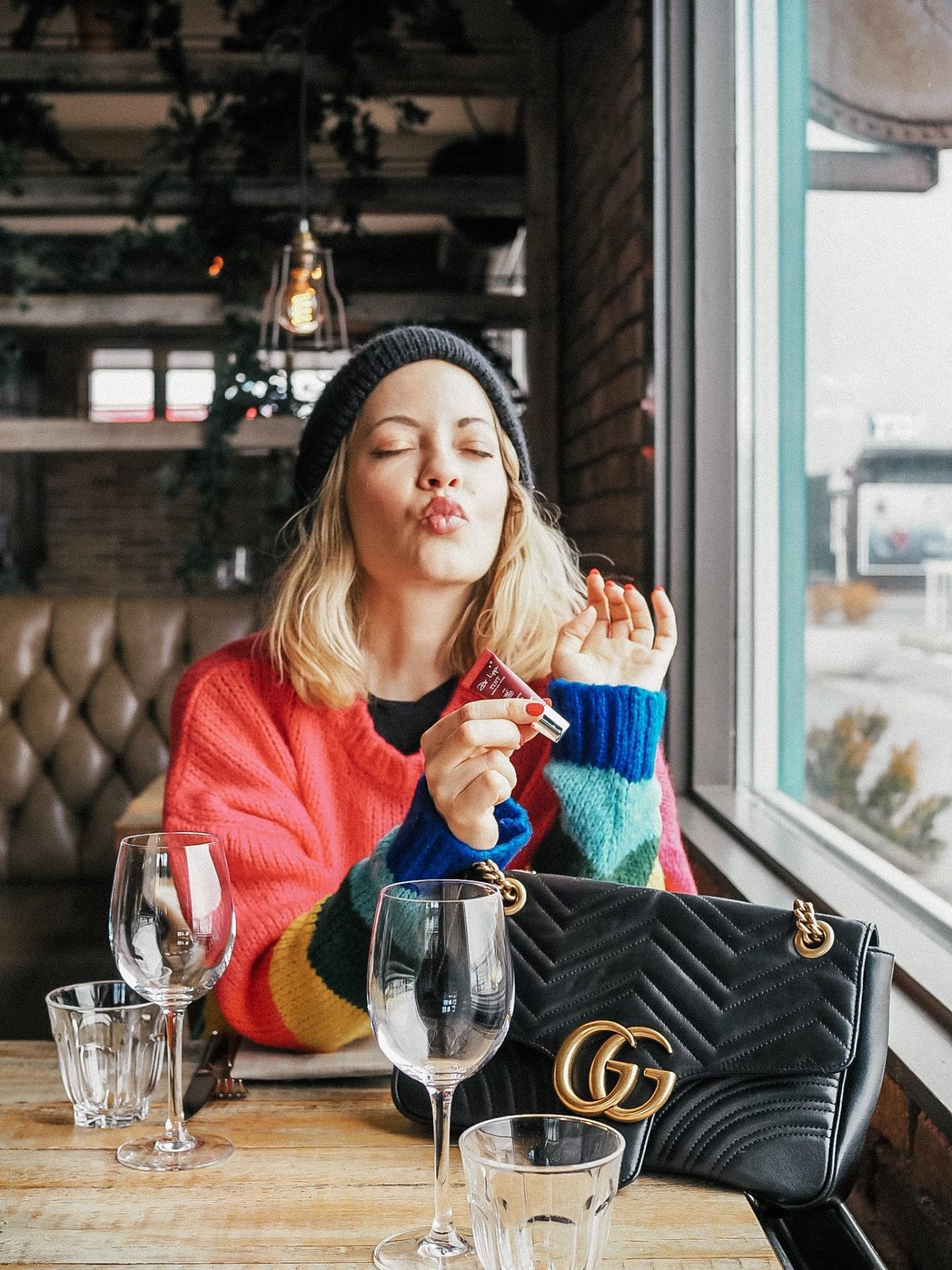 If you are planning a trip to Iceland definitely head to the Golden Circle where I visited on my first trip but also plan to head to some of the restaurants I've recommended. I had no idea Iceland was such a foodie place and the food is definitely worth exploring!
This trip was kindly sponsored by The Blogger Programme and brands mentioned in this post but all views and opinions are my own and these are my own words. If you are a blogger and want to work with The Blogger Programme I would suggest you check them out for both paid and gifted opportunities as well as amazing trips like these.