I love accessories and they can really make or break an outfit. These days a simple scarf, watch or bit of classic jewellery can add an entire new element to your look. Since the British weather has been testy at best this summer I've really embraced the layers and also the accessories – realising that accessories can really enhance my entire look. In this post I will be talking about some of my favourites!
First of all there is nothing like a pair of sunglasses to update your look. I LOVE these Quay Australia ones (below). They aren't expensive at all and the mirror lenses are so on trend this summer. I get so many compliments on them and they just. look. cool.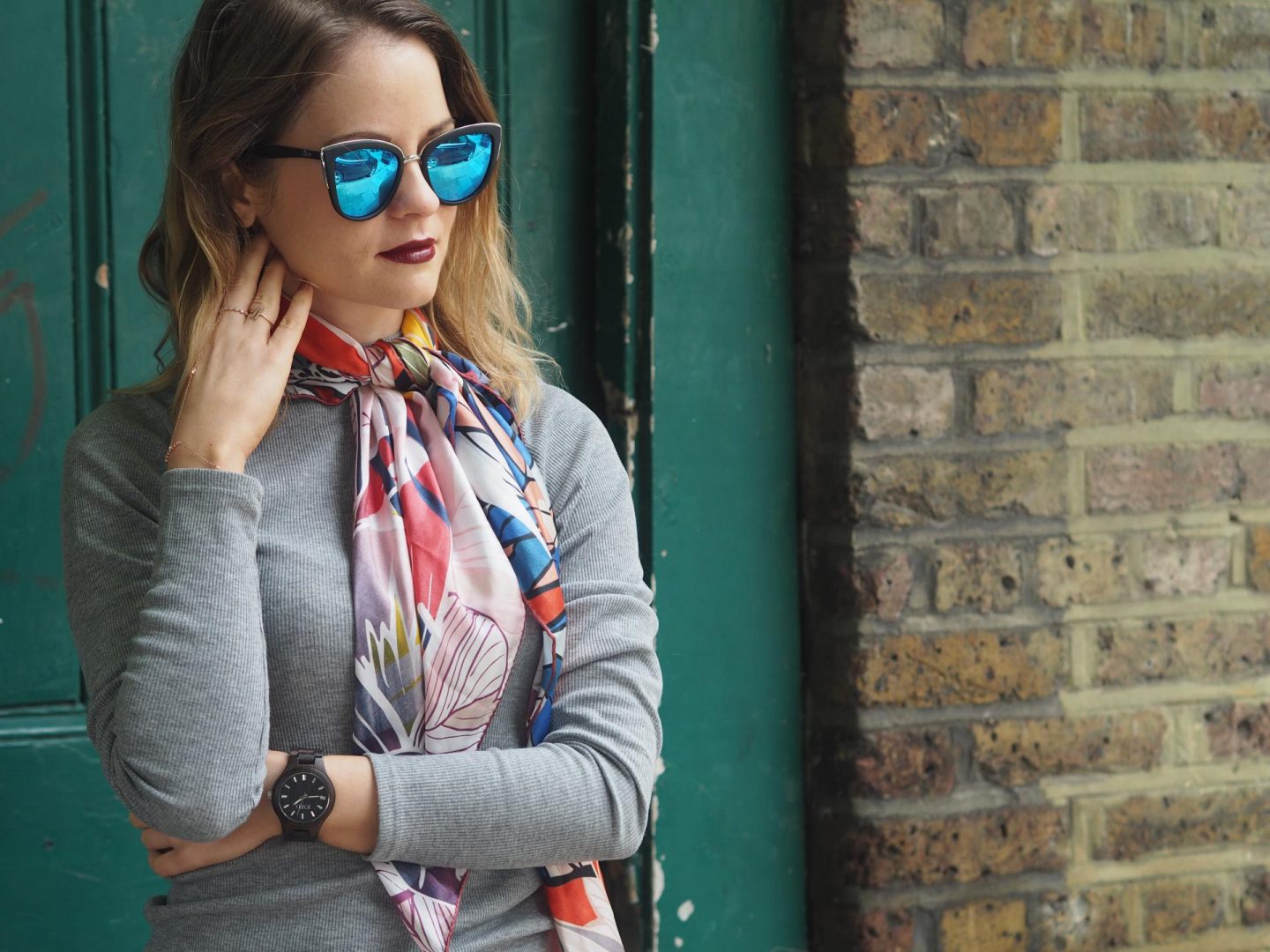 Second of all you need a really cool watch. I love this women's watch from Jord. Jord makes wooden watches that are really unique – I've honestly never seen anything like them. Mine is called the Fieldcrest and is made of dark sandalwood. I love the large face on it as a well – it really stands out.
This unique watch is simple but classy and goes with a wide range of outfits due to it's dark colour. It's really a dark brown, nearly black. The watch is splash-proof as well which helps in the British weather but should not be submerged in water.
I love watches because you can change them up according to your outfit. And everyone needs a watch! The Jord Fieldcrest watch is brilliant as well because it's really easy to tell the time. I know that sounds silly but actually I find the large face is very easy to read. I've been wearing this watch every single day since I got it and really love it.
Jord watches are handmade in St. Louis, Missouri, USA (close to where I'm from!) so when I wear it, it's like having a little piece of home with me, no matter where I go. I am really happy to see this mid-western American brand doing so well!
For jewellery I love Astrid & Miyu – they make the prettiest, most delicate jewellery. Their rings are gorgeous and the hand chain below I love for it's delicate look and feel. The Chase Me Double Bar Ring in Gold below is so so pretty and I wear it all the time. On my nails I am wearing Chanel Rose Confidential – a classic.
I love a silk scarf as well and this beautiful satin silk 'Red Garden of Love' scarf is by K&K Labs which features hand illustrated designs in a bright floral pattern and hand rolled hemmed edges. Watch this space for my next feature on how to style this scarf in three different ways!
You can also enter to win a Wooden Watches by JORD e-voucher worth $75 towards a wooden watch of your own. And anyone who enters gets a $20.00 e-voucher just for entering so regardless, you win! Jord ships to a variety of countries so just visit their site and enter the competition here: https://www.woodwatches.com/g/beautyrocksblog
The contest is live now, and will end Sunday 7/24/2016 so hurry while you still can.
Don't forget to follow me on Instagram @beautyrocksblog for all my latest style and beauty posts!