Ah holidays….so easy to book, so hard to pack for. I always struggle with the packing element of travelling and end up taking too much. There is so much to think of – daytime outfits, swimwear, nighttime outfits, beauty products, suncare – the list goes on. I've recently had an amazing trip to the Cayman Islands which I can't wait to tell you all about but I'm going to start first with the holiday beauty essentials and what to pack for a beach holiday. So if you want to know what products that I just couldn't live without then read on!
Seriously what was life like before Vita Liberata came out with the Body Blur? This is seriously like an Instagram filter for the face and body – think of it as a priming body make-up. It blurs imperfections and makes things like spider veins and cellulite disappear. Okay maybe it doesn't make cellulite disappear completely but it does smooth out bumps on the skin. Rashes, bruises and sunburn are also masked. Literally if you apply this over skin onto a fake tan you will be so glowy. I used this on legs and arms and it really made my whole body glow with the kind of health you just can't put a price on! A MUST-HAVE product for any beach holiday or anytime you are baring some skin.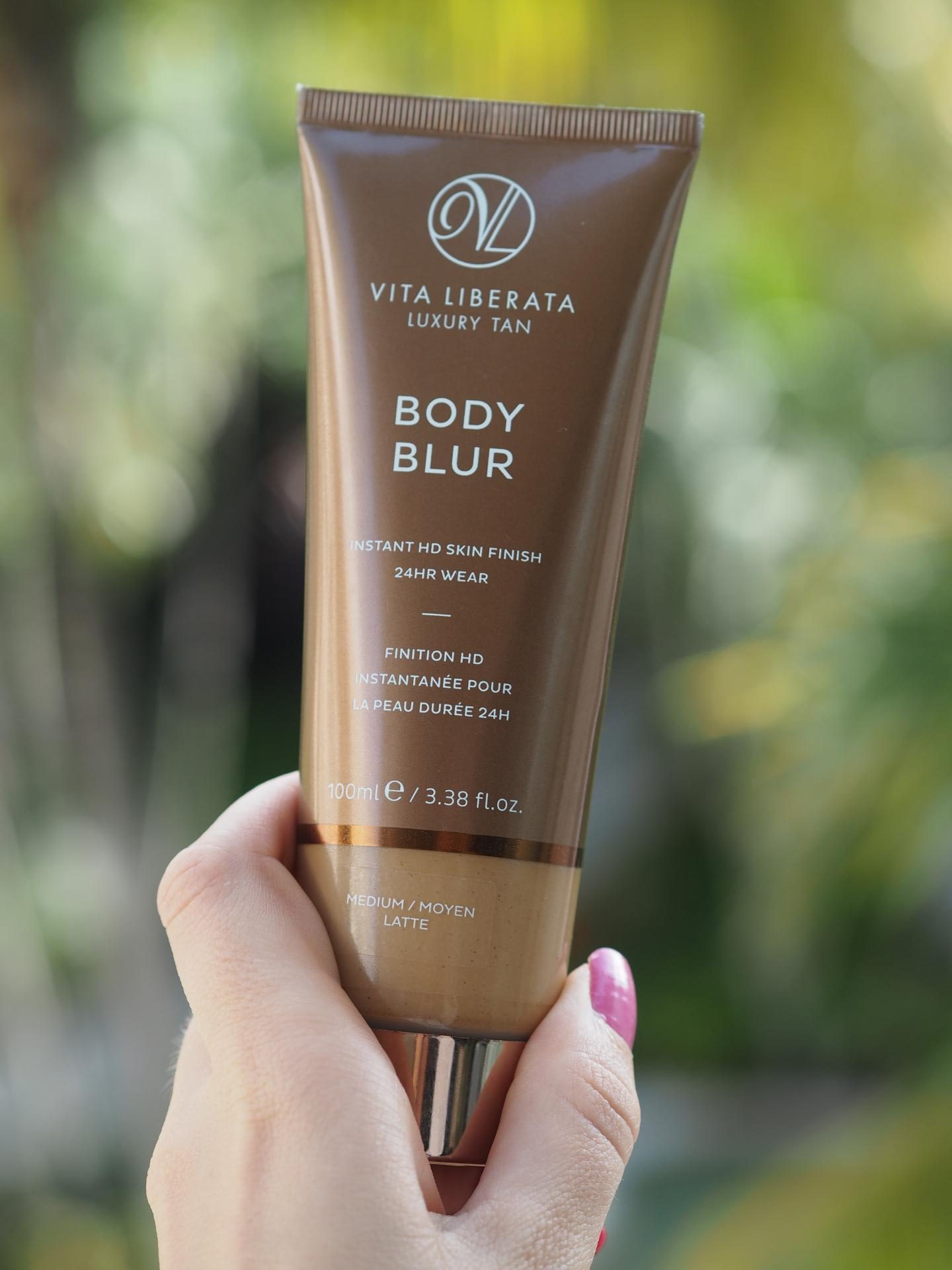 Okay so there is dry shampoo and there is dry shampoo foam. I have to tell you that I'm extremely picky about dry shampoos. I have fine hair that gets quite oily on the roots so need a dry shampoo that works. Now I've always stuck to sprays but I think it's safe to say I might be switching to foams after trying the Quay Dry Shampoo Foam. This stuff is brilliant. Honestly I used it throughout my holiday to freshen up locks. The Cayman Islands are HOT so combine sweating with sun exposure and being in and out of the ocean and pool and you very quickly have lank hair. However if you don't have time to freshen up your hair between beachtime and dinner time then the Quai Dry Shampoo Foam will do the trick. Simply apply the foam directly onto your scalp and massage in lightly. The scent is really nice and hair feels silky soft and grease-free. And no powder residue in sight!
Marc Jacobs Re(Marc)able Full Coverage Foundation Concentrate
I love natural beauty for beach holidays but in the Cayman Islands I went to some pretty glam places for dinner so naturally had to glam it up. Glam for me means more high coverage make-up and one of THE BEST high-coverage foundations I've ever used is the Marc Jacobs ReMarcable Foundation. This stuff covers everything and it's so pigmented that just a little drop of it is like a magic eraser for spots and uneven skin tone. I used this in the evening for a more glamourous look and dabbed several dots over moisturised skin and blended in. The formula blends like a dream and you can also use this on areas where you need extra coverage if you don't want to apply it all over. I even use it as a concealer at times – it's brilliant. Honestly, one of the best foundations out there on the market!
Clarins Sun Care Oil Spray UVB 30
I'm a huge fan of Clarins sun care products and this Oil Spray is no different. The texture is non-greasy and it's a dream to apply. It kept me burn-free my entire time in the sun. I carried this around with me everywhere and gave myself a spritz top-up whenever I felt like I needed it. You can also use this on your hair as a hair oil as it contains skin-nourishing ingredients such as Vitamin E, Aloe Vera and Nyamplung oil. The great thing about this product over a lotion is that it's not greasy, sinks into the skin and doesn't leave any creamy white marks on the body. It's just like applying a regular body oil except that you are also protecting your skin from sun damage. And as they say, prevention is ALWAYS better than the cure. This is an absolute beauty essential for a beach holiday.
Hair needs to be protected just like the skin. UV rays really damage hair and destroy the fibre and hair shaft leaving it dull and frizzy. All that time in the pool or in the ocean can take its toll on the hair. So how do you make sure that your hair stays protected while you are on holiday? Well it's really as easy as applying a product like Sachajuan Hair In The Sun. This product has a UV filter that protects hair in the sun and all you have to do is apply it to hair before you go out. It even stays in the hair after a bath or shower – yes, it's that good. My hair stayed silky and soft all throughout my Cayman Islands stay!
So you know how to protect your hair in the sun but what about treating it after heavy sun exposure? Again, Sachajuan comes to the hair rescue with After The Sun. You simply apply this to hair after washing or as a rinse-out formula to deliver a burst of hydration. You can also use this as a styling cream but think of this to the hair as aloe vera to the sunburned skin. It's bloody brilliant!
Image Skincare Yana Daily Collagen Shots
It's just as important to take care of your skin from the inside as well as from the outside. I've been doing this with the Image Skincare Yana Daily Collagen shots which come in a mini shot bottles and contain a highly concentrated liquid that helps boost collagen production. Collagen keeps our skin firm, plump and useful and the sad thing is that we lose it as we age (bummer, I know).
The shots are super easy to take and they taste really good just mixed into a glass of water. You can add them to any drink really and you should take this in the morning. It's a 30 day supply and I've been using them for nearly that and my skin does look a bit more plump so I would say that it certainly doesn't hurt to add this to your skincare routine for an additional boost from the inside! The formula contains collagen peptides, antioxidants, ceramides and vitamins – what more could you want from a 15ml bottle? And they are easy and durable enough to take on a holiday for an instant vitamin boost.
Image Skincare Biomolecular Hydrating Recovery Mask
When you have been on the plane for hours and hours your skin feels sunken, dry, tired and dull. Or at least that's what happens to my skin! Therefore when I get off the plane I really have to use a mask – and a good one at that. I took with me on my holiday to the Cayman Islands the Image Skincare Biomolecular Hydrating Recovery Mask. Key word – hydrating. This mask is amazing with a quick delivery of active ingredients to the skin. Think of it like a quick drip for the skin with deep hydration. So what's in it? Well a whole host of interesting things like volcanic water, ginseng root extract, amino acids and antioxidants. Honestly this mask is amazing if you really feel that your skin needs some serious TLC. And mine always does after a flight so this was key to getting my skin back on track and ready to glow, glow, glow for my holiday in the sun.
Image Skincare Prevention Plus Daily Ultimate Protection Moisturiser SPF 50
If you are going on holiday it is essential to pack a good face cream with sun protection. I cannot stress enough how important it is to wear sunscreen – especially if you are exposed to strong sunlight during the day. I packed this Image Skincare Prevention Plus Daily Moisturiser with SPF 50 in my bag because I knew that I needed to protect my skin in the sun with something serious. I have pigmentation and also burn easily so need something with a high SPF in it that will protect my skin. I love that this moisturiser is super lightweight – it doesn't feel heavy or greasy on the face at all. A must-have product for your next holiday!
Image Skincare Pure Mineral Sunscreen Spray SPF 30
If you are looking for a great sunscreen spray that's both invisible but has high protection then look no further than this one. The Image Skincare Pure Mineral Sunscreen Spray is super easy to apply and it doesn't even leave a trace – it's lightweight, non-greasy and you won't even know it's there. If you tend to get lazy about sun protection and want an amazing and easy spray then this product is certainly worth a look into. It's also anti-pollution so you could mist this onto your face everyday before leaving over make-up for an extra layer of protection. Another great thing? There are no parabens or chemicals in sight in the formula.
BellaMianta Dark Rapid Mousse – Face/Body
I absolutely love this fake tan because it gives me the darkest tan ever! I'm naturally pale so I love to fake that I've actually got a real tan. And by tan I mean bronzed goddess. I leave this BellaMianta Dark Rapid Mousse for Face/Body on overnight so it can develop into the deepest, darkest tan. The product dries quickly and also contains natural extracts which I like because when it comes to tan, natural is best (in regards to fake tan formulas of course). You can tailor the colour to your needs and wash this off after 2 hours for a light tan, 3 hours for a medium tan and 4 hours for the darkest tan. The tan will last about 7 days and once it starts to fade/rub off I would just exfoliate the skin and the reapply! People will definitely ask if you have been on a beach holiday!
Do you have any beach holiday beauty essentials you can't live without? Let me know!
Don't forget to follow me on Instagram @beautyrocksblog for all my latest adventures and for pics from my holiday to the Cayman Islands!
*Please note that this post does contain affiliate links and if you click on them and then go onto purchase I will make a small commission off the sale.*