I drink coffee. A lot of coffee. And whilst I personally love coffee my teeth don't exactly thank me for it. I also dabble in the occasional glass of wine and again, my teeth don't thank me for it. I have been considering a professional whitening treatment for some time and have looked into in-office dental treatments in the past but of course who likes going to the dentist? I also found that the first time I ever had a treatment at the dentist (a couple of years ago) that the mould that they use to custom make the teeth whitening trays made me gag (I've got a really strong gag reflex). No, thank you. Therefore I really wanted to look into how to get whiter teeth at home.
Therefore, in looking at teeth whitening treatments at home I came across the Snow Teeth Whitening System and the online reviews impressed me, hence I am super excited to collaborate with them on this post. They just launched a new patented, dual-light, wireless, self-sanitizing teeth whitening system so who wouldn't be impressed? I most certainly, AM.
First off it's worth noting that it's recommended to use the Snow Teeth Whitening System for 3 to 4 weeks to get your final results but I started seeing results after 3 treatments/sessions. It really does work fast and again a great way to get whiter teeth at home. And if you also want a faster result you can use the machine twice a day for two sessions. However, I stuck to the once-a-day treatment and did my session in the evening while I was getting ready for bed. The mouthpiece is waterproof and wireless so you can even wear it in the shower.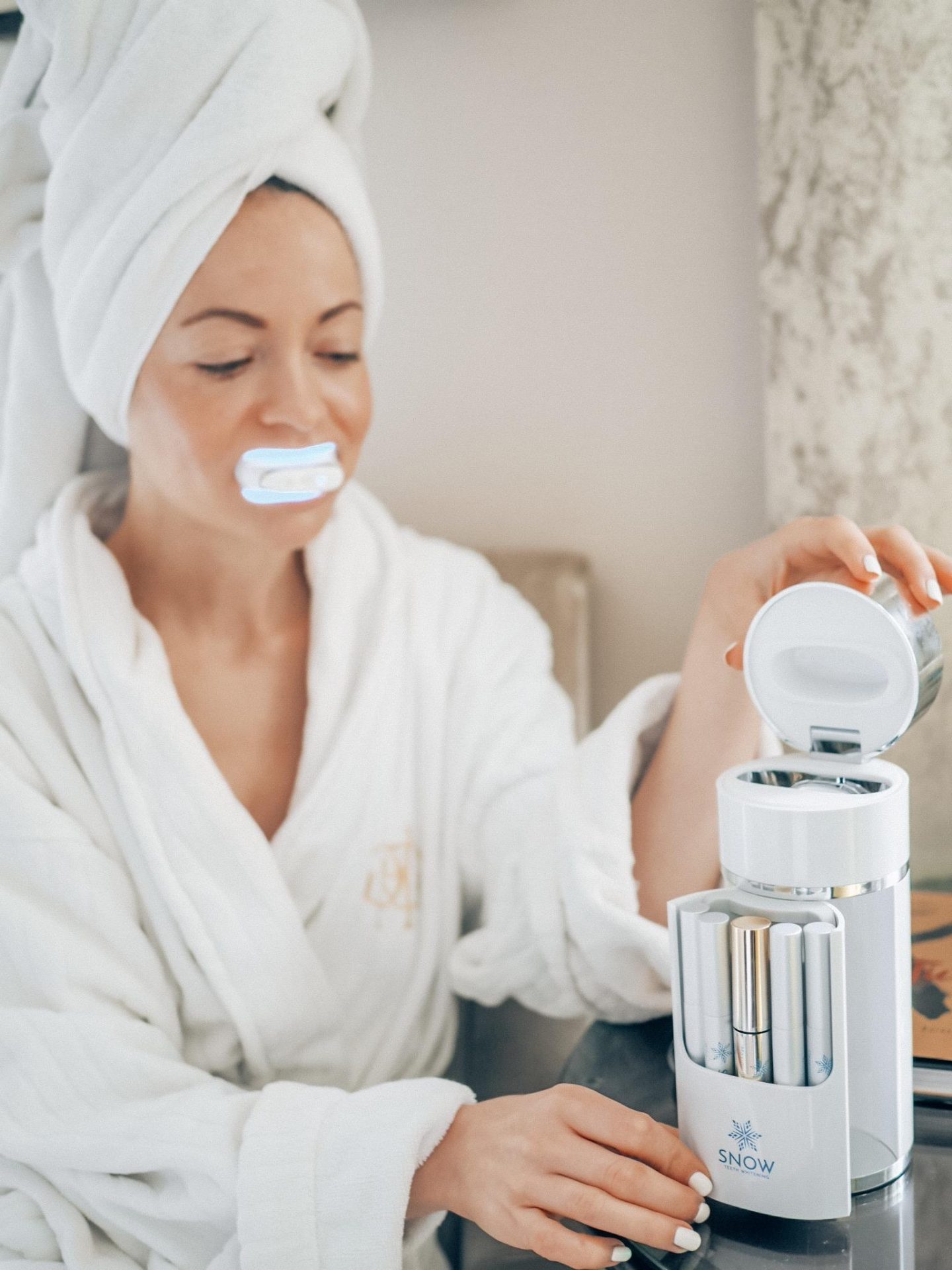 To get started, you first have to charge the wireless mouthpiece (which emits a blue LED light that whitens your teeth) in the gorgeous, self-sanitising capsule that the Snow Teeth Whitening mouthpiece comes in. Stored in this capsule are also an array of teeth whitening serums which fit perfectly inside. It's all so organised that even Marie Kondo would be impressed! I also love that the capsule is sleek and stylish and the size is perfect for travel too. I packed this away on one of my recent trips so as not to disrupt my teeth whitening treatments! I also like that the machine gives you much faster (5x times to be exact) and more impressive results than teeth whitening strips and you save on plastic packaging that the teeth whitening strips come in, saving on waste overall.
The next step (once you have charged your mouthpiece) is to apply a thin layer of the teeth whitening serum to your teeth. Then you simply shake the activator once to activate it and give it another shake to turn on the blue light which is what will whiten your teeth (along with the serum of course). You then place into your mouth and you can leave it on for up to 30 minutes for each session or if you only have 10 minutes that's ideal too!
I love that once you use your mouthpiece as well you can simply rinse off, dry and place back into the capsule holder because the device self-sanitises which means that it kills 99.9% of germs once it starts to charge again for your next session. So no mess to clean up and super easy to use!
Another feature of the mouthpiece that you can use if you shake it a 3rd time is the red light. The red light therapy feature kills gingivitis-causing bacteria and fights receding gum line. You can use this daily or as needed to improve gum health.
And literally they have pretty much thought of everything because the kit also comes with an anti-ageing lip treatment that you can apply to your lips as you whiten your teeth with the mouthpiece so you can kill two birds with one stone.
Also to note I didn't get any sensitivity with my teeth after using this product so it's really great in that regards too. And this is also an enamel-safe teeth whitening system and recommended by dentists so it is very safe to use! You can also track your progress plus the shade of your teeth on the Snow Teeth Whitening app. You can see how much whiter my teeth got compared to before and after below.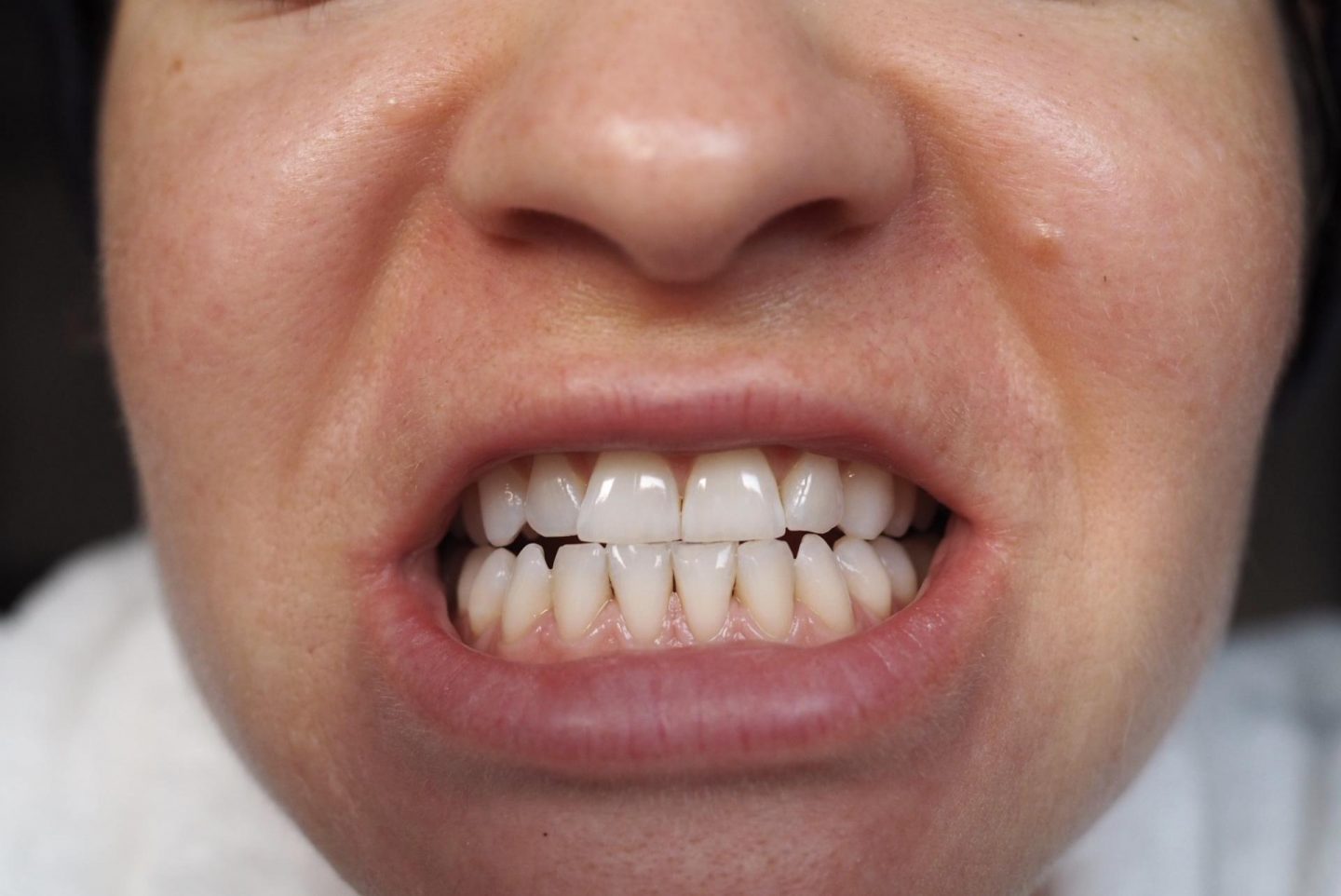 Have you used any teeth-whitening systems? Have you looked into any ways to get whiter teeth at home?
*This post is in collaboration with Snow Teeth Whitening but all views, as always, are my own