Be still my beating heart. I am a true lipstick lover – an addict, if you will (have you seen my latest post on my Top 10 Trendy Lipsticks. And the latest launch from Giorgio Armani – the Giorgio Armani Lip Magnet is something to behold. The highly-anticipated collection has landed exclusively at Selfridges but will launch nationwide on 26th October.
Let me just say that the Lip Magnet collection is beautiful, gorgeous, stunning. It's actually a matte lipstick but is so moisturising and doesn't feel drying like a matte lipstick at all. The pigment is a beautiful stain and really sticks to the lips beautifully. The colours because they remind me of a stain are something of a hybrid – they are a stain and they are matte but super moisturising – all a bit of a fabulous contradiction. Everything in one if you will. I love matte lipsticks but I don't like how they dry out my lips and feel uncomfortable all day.
I mean seriously how beautiful are these colours (below)? There are 18 colours in the collection so lots of choices here. Lip Magnet is inspired by two of Giorgio Armani Beauty's most iconic products: the ultra-thin film of Maestro Fusion Make-Up and the colour intensity of Lip Maestro Velvet Lip Colour. So we have the best of everything in these.
The colours are really chic and also feel really weightless on the lips. Trust me, these are actually like no lipsticks I've ever experienced just because they do so many things all at once. I love the lightweight feeling, love that they remind me of a stain, love that they are matte but moisturising and love the sheer range of colours to choose from. There is a colour for everyone in this collection.
So what are some of my faves? Well I have colours 402 (Red), 300 (Coral), 503 (Peach), 500 (Bright Pink), 600 (Mauve) and 506 (Dusty Pink) and while I actually LOVE all of them I've got three favourites. Let's start with 402 in Fil Rouge (below) – a gorgeous red that is pure class and would really look amazing on just about anyone. Everyone needs an effortless red like this in their lipstick wardrobe. This one is perfect with messy hair, minimal make-up, a white crisp shirt and ripped jeans. Add some heels and you've got Parisian chic covered.
The next colour I'm into is the 600 in Eleganza which I would describe as a mauve colour. It's a lovely subdued berry – amazing for autumn! Wear this with flawless make-up, a shimmery eyeshadow and a cat eye flick. Purrrrfect.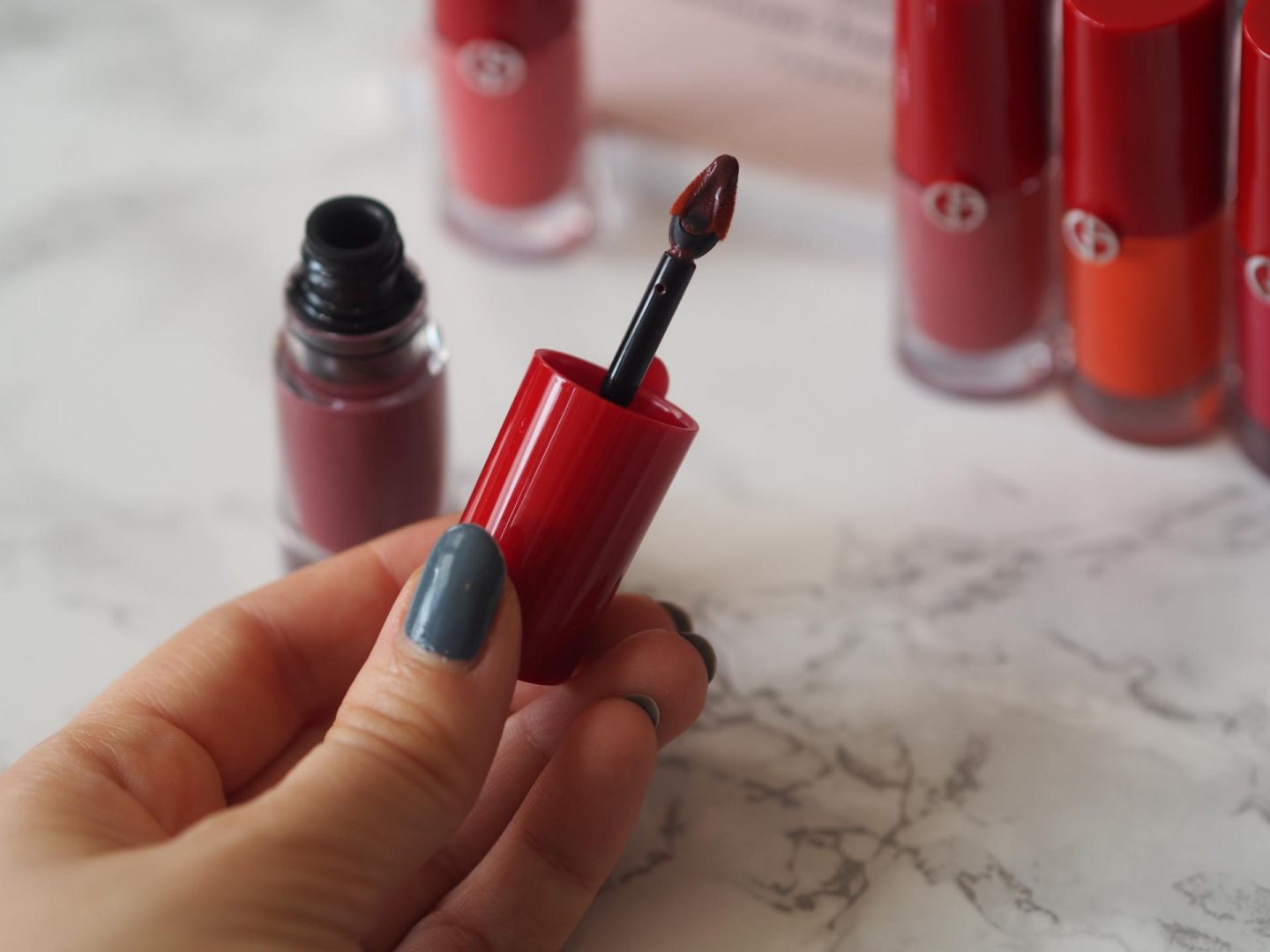 My next favourite is 300 in Glo which is a lovely bright coral colour. Wear this on a dreary day and it will remind you of oranges and sunshine! An unexpected favourite of mine – I like this one because it's different. It's sunny and bright and we all need one of these in our lives.
And for everyday I love the shades of pink – from a dusty rose to a bright pink they are all simply fabulous.
I would highly recommend these lipsticks for the texture, the feel and the payoff with minimal effort. It's the opposite of 'no pain, no gain.' These are not painful but you get all the gains from wearing them.
Shop the NEW Giorgio Armani Lip Magnet Collection here:
Don't forget to follow me on Instagram/Twitter @beautyrocksblog for all my latest adventures!